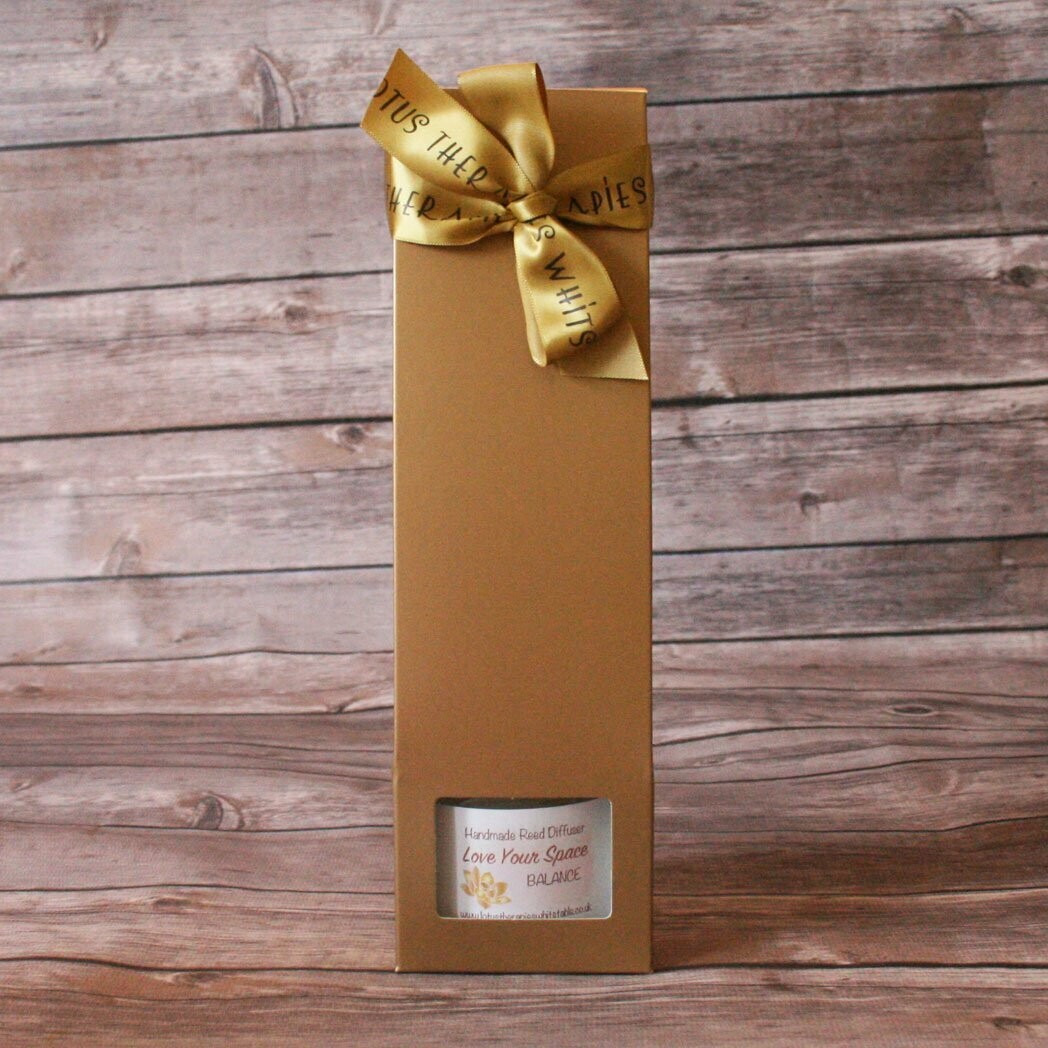 Love Your Space - Handmade Reed Diffusers
SKU 00023
Product Details
Lotus Therapy Reed Diffusers - handmade with love for your home and wellbeing.
Citrus Burst to invigorate and Energise or Balance to create relaxation and tranquillity.
Every Reed Diffuser is hand made using 100% essential oils, expertly blended to create beautiful aromas that offer a long lasting natural solution to keeping your home wonderfully scented and your mood enhanced. 100ml diffuser will give you approximately 120 days of bliss.
Citrus Burst
Lemongrass and Grapefruit. Lemongrass has been selected for its deodorising and antibacterial properties combined with its ability to invigorate and energize.
Grapefruit, working in perfect synergy with Lemongrass acts as a natural disinfectant, with mood enhancing properties that boost, uplift and energize. Blended together they create a wonderful fresh fragrance that is ideal for bathrooms and kitchens.
Balance
Geranium, Lavender and Bergamot. Balance has been created by selecting these 3 exceptionally harmonising oils, each with their own unique and delightful natural fragrance. Each oil is known for its ability to help relieve stress, balance hormones, aid sleep, boost energy and lift your mood. Therefore, combined these oils produce a diffuser that has a balancing effect on the mind and body. Blended to fill your home with a wonderful aroma whilst supporting your emotions, this is the perfect oil to promote a deep sense of tranquility and wellbeing. Ideal for use in bedrooms, sitting rooms and areas of relaxation.
I am constantly looking at ways of reducing and recycling in order to offer my customers not only the best value, but also, how best to care for our planet. Therefore once your home and senses have been awakened to the benefits of using a natural room diffuser, why not join me in helping to reduce our carbon footprint, by purchasing the refill option; as Citrus Burst and Balance are both available in a 200ml option. The planet we are caring for; is the planet we are leaving to our children.
Directions for use
Unscrew the collar and remove the seal. Replace the collar and insert the reeds. Depending on the room size it is not necessary to use all of the reeds. There is no need to turn the reeds. All my products are hand made using 100% natural fragrances for the mind & body. None of my products contain artificial perfumes, or harsh preservatives. I will only use pure essential oils,
and all ingredients are natural and/or organic, selected from ethically sourced and sustainable origins.
Save this product for later